Dear all –
I hope you are doing OK in the wake of events in Charlottesville and the response from the White House. Hoping these events and others like them (Barcelona, etc) will become a source of unified resistance as we saw in Boston yesterday. In the face of terror and the condoning of terror, there is a pressing need to develop shared goals, shared knowledge and mutual respect among conflicting parties.
This is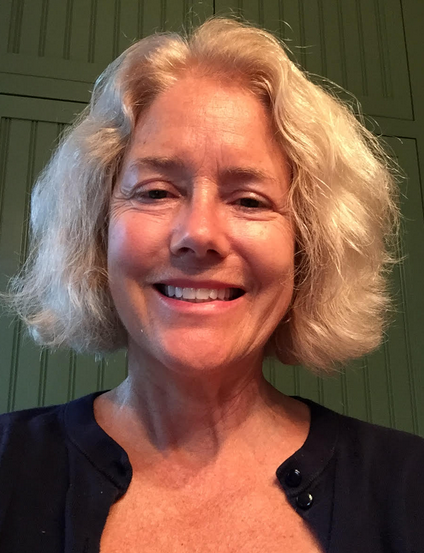 work that the RCRC community is doing every day. Building RC across youth advocates, social services, schools, police, probation and parole for the purpose of addressing gang violence – building RC across treatment facilities, hospitals and community health centers for the purpose of increasing health and wellness – building RC across the organ transplant community for the purpose of enhancing life chances – building RC across global supply networks to enhance efficiency and equity – building RC to strengthen social movements – building RC for interprofessional collaboration and coproduction in schools for the sake of student success and in hospitals for the sake of patient outcomes – and building RC to achieve policy agreement among multiple conflicting stakeholders.
So please join us for another season of learning about RC research, theory and practice. See below for the upcoming Research Webinars and RC Cafes. And be sure to register for the 7th Annual RCRC Roundtable before it's too late, to be held in Copenhagen October 19-20 with keynotes by Dr. Michele Williams (University of Iowa) and Dr. Edgar Schein (MIT Sloan School of Management). We would love to include your perspective in this learning process.
– Jody
---
RCRC Research Webinars and Cafe's
We are excited about our Research Webinars and RC Cafes scheduled for the upcoming 2017-2018 academic year! All of these are open to RCRC partners, who will be receiving calendar invitations for each of these soon. These events provide a great opportunity to meet, learn from and collaborate with other members of the RCRC community. If you would like to join any of our RC Cafes as a discussion leader, please contact Tanya Allain at tallain@brandeis.edu.
September Schedule
Building Relational Coordination Across Organizational Boundaries – New Frontiers
RC Cafe -Tuesday, September 28 at 10:00 ET Discussion Leaders: Dana Minbaeva (Copenhagen Business School) and Joel Cutcher-Gershenfeld (Brandeis University).
If you are a partner, click here to register.
Organizing for Student Success -A Proposal for Relational Coordination in Higher Education
Research Webinar – Thursday, September 7 at 10:30 ET
Presenter: Jeff Grim (University of Michigan)
Discussant: Susan Gershenfeld (Brandeis University)
If you are a partner, click here to register. 
Not a partner yet? Join as soon as possible to attend all cafe's and webinars in the 2017-2018 academic year! Click here to learn more.
---
 RCRC Partner Updates

Victoria Parker – Associate Dean, Peter Paul College of Business and Economics, University of New Hampshire
Laurie Nsiah-Jefferson – Associate Research Professor, University of North Carolina Charlotte, College of Health and Human Services
Erik Vestergård – Head of Studies, Associate Professor, University College Absalon (previously University College Zealand)
Thomas Huber – Assistant Professor, Ohio State University, School of Public Health.

Callie Watkins Liu – Assistant Professor, Sociology, Stonehill College
Ina Sebastien – Research Scientist, MIT Center for Information Systems Research (starting September)
Gillian Smith – Service Director, Gold Coast Health, Contracting and Performance Management, Department of Health, Australia
Dr.Troyen Brennan – As Executive Vice President and Chief Medical Officer, CVS Health, Dr. Brennan provides oversight for the development of CVS Health's clinical and medical affairs and healthcare strategy, aswell as the company's MinuteClinic business and other services. Dr. Brennan is now on the Dartmouth Hitchcock Board of Trustees.
New Certifications
Sally Rogers of Salus Global Corporation has become an RC Certified Professional

New Dissertations
Jim Best has successfully defended his dissertation at Saybrook University – "Factors and Proceses Underlying Increases in Relational Coordination in Task Coordinating Groups" – this exciting work will be presented in the October RC Cafe!
New Publications
Changing Perspectives on Organizational Change in Health Care by Aoife McDermott (RCRC Faculty Partner) and Louise Fitzgerald, published by Routledge
RC Related Job Opportunities Shared by an RCRC Partner (new feature)
HR Business Partner, SLAC National Accelerator Laboratory
---
 Creating Change Through Trust Based Relationships
October 19 & 20 in Copenhagen
Keynote Speakers
Dr. Michele Williams, University of Iowa (in person)
Dr. Edgar Schein, MIT Sloan School of Management (virtually)

The world as we know it is undergoing tremendous changes.  Perhaps in response, a populist groundswell is building up, nurturing a feeling of an 'us' versus 'them.' How do we create trust in a time of distrust?  How do we build relational coordination among diverse stakeholders to achieve their desired outcomes?  How can we build it across differences in race, class, nationality, religion, gender and sexual identity?  How can we accomplish RC culture change in any sector, whether it be healthcare, community health and wellness, public safety, education, professional services, construction, or sustainable global supply chains?
At the Roundtable October 19-20, we will explore these questions.  And you will see the world from a different perspective. Literally! For the first time, the Roundtable is taking place outside the U.S. Our location this year will be Copenhagen, the capital of Denmark and one of the major cities in Scandinavia. The Scandinavian countries have been characterized by high levels of trust among citizens, in the judicial system, and even in politicians.
Join us for inspiration from around the world, as we bridge our research and practical experiences to create change. We invite you to bring your research, your teaching or a change initiative you're involved with and put your head together with fellow researchers and professionals to deepen your knowledge and bring new perspectives to it.  In the Welcoming Activities, you will have a chance to explore Copenhagen and local organizations that have implemented relational coordination, and the City of Copenhagen will welcome us with a reception in historic City Hall. We can walk-the-talk as we connect between research and practice, and across professions, industries, cultures and nations.
Come early or stay the following weekend for fun with your colleagues or family, visiting Tivoli Gardens, biking around town, checking out the youthful scene in the meat packing district, walking or running around the lakes, stopping for Danish coffee, pastries and conversation.  Whatever you do, experience Danish hygge (it's all about coziness and good relations).   And see for yourself how Denmark is working to strengthen "All That We Share" across divisions of race, class and sexual identity.
Forty six abstracts were selected in late June by the RCRC board and its selection committee through a blind review process, based on ratings of quality, novelty and interest to the RCRC community.  The resulting program is one of the most diverse and exciting to date, with presenters from 14 countries, and 10 of the United States.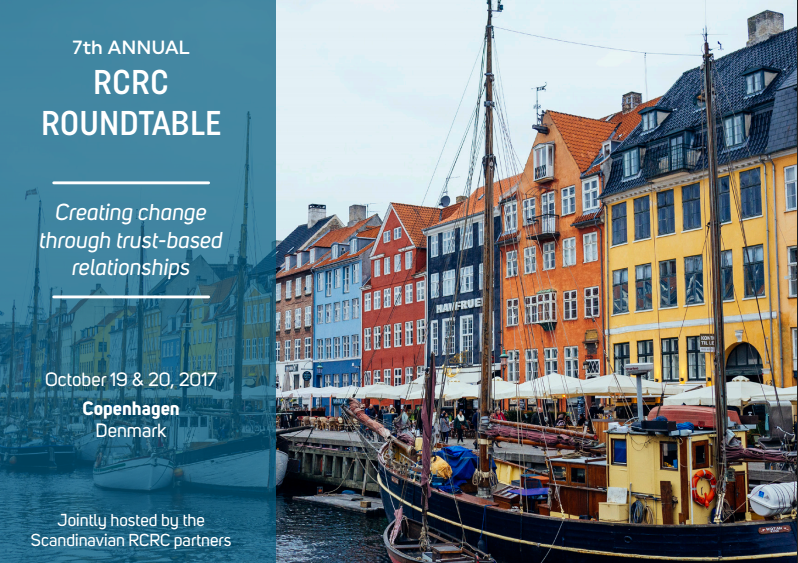 ---
  RC Intervention Training
Improving Work Processes with Relational Coordination
Copenhagen October 17 & 18
Led by Dr. Tony Suchman and Soren Bjerregaard Kjaer
This advanced workshop will help you learn how to use the Relational Coordination (RC) Survey in interventions to improve work processes and collaboration across the continuum from small co-located work groups to virtual teams to whole organizations and inter-organizational consortia. If you are an organizational leader or an internal or external consultant and want to take your understanding of RC to a higher level,we invite you to join us. This program will also help you prepare for the RC Certification.
---
September 5-7: British Academy of Management with RC presentations by Muhammad Siddique (Institute for Management Science) and more.  See more here.
September 7 at 10:30 ET:  Research Webinar – See information above.
September 28 at 10:00 ET: RC Cafe – See information above.
October 17-18: RC Intervention Training in Copenhagen. See above for details.
October 19-20: 7th Annual RCRC Roundtable in Copenhagen. See above or here for details.
October 27-28: System of Complexity Sciences for Healthcare – Embracing Complexity in Health: The Transformation of Science, Practice and Policy at George Washington University in Washington DC.
November 15-18: 2017 American Society of Criminology Meeting in Philadelphia, PA – presentation by Lauren Hajjar (RCRC Director of Research).
April 1, 2018: Call for Papers Deadline – Relationship-Based Leadership: Current Trends and Future Prospects – for Co-Lead Net.  Learn more here.
November 2017 – May 2018: Leading Organizations to Health – Organizational change initiatives succeed or fail based on the quality of relationships. Relational problems have been cited as the single biggest obstacle to quality improvement projects. Yet most leaders of change projects are not well-prepared for the relational dimension of their work; their training has typically focused on technical analytic tools and control-oriented rather than relational mindsets. As a result, performance suffers.To address this gap we created Leading Organizations to Health, a 7-month institute on leading organizational change for senior and mid-level healthcare leaders. The next cohort begins in November 2017. For more information, please visit here. The institute is led by Tony Suchman (Relationship Centered Healthcare) and Diane Rawlins (InsideOut Consulting).
December 7-9, 2017, February 1-3, 2018, April 12-14, 2018: Rediscovering the Heart of Health Care: A Courage to Lead Retreat Series in Island Wood – Seattle, WA. Facilitators are Richard Shugerman and RCRC Partner, Diane Rawlins. Click here to learn more, register and download the brochure.
Have an event to share with the RCRC community?  Email Tanya Allain at tallain@brandeis.edu.