---
In This Newsletter:
RCRC Roundtable in Copenhagen: Inviting Abstracts & Registration is Now Open
Academy of Management in Atlanta, Georgia
---
I'm happy to report that the RCRC learning community continues to grow and thrive. In the last couple of months, we've welcomed Beth Israel Deaconess Medical Center, CVS Minute Clinics and the Rochester City Schools as new organizational partners, and …. as individual partners. This newsletter is now read by people in 33 countries, and our partners now include people in 20 countries – see here for their pictures and bios!
Our long time partners have been quite welcoming of new partners as we gather twice monthly to share our experiences and challenges (cafes) and our research findings (webinars). The Spring 2017 cafes and webinars have been very well attended with lots of thoughtful participation. We know that time is always a constraint especially in these challenging times and we are honored when you set aside that one or two hours a month to hear what others are learning and share your learning as well.
Areas to improve our learning community are also evident! We have a wealth of evidence regarding RC and performance from many years of cross-sectional studies in 20 industries and 25 countries. But we are at an early stage of understanding how RC changes over time and how changes in RC create changes in performance. There are so many change efforts in progress in the RCRC community, yet relatively few are accompanied by an experimental or quasi-experimental evaluation design that will enable us to build the evidence base regarding RC change.
The first challenge is to create change in RC itself, which is like changing a culture – these patterns do not move easily when there are well-established role relationships with clear pecking orders. The second challenge is to focus on and measure our desired performed outcomes. Both of these can be done simultaneously, but it requires intention and both/and thinking.
We urge you to reach out to us at the RCRC for advice on evaluation design earlier rather than later in a change initiative. Dr. Lauren Hajjar, our research director, is very well trained in experimental design! Send a note to Lauren at lhajjar@brandeis.edu to ask for guidance – we are here to advise and support our partners!
Jody
---
 RCRC Roundtable in Copenhagen: Inviting Abstracts & Registration is Now Open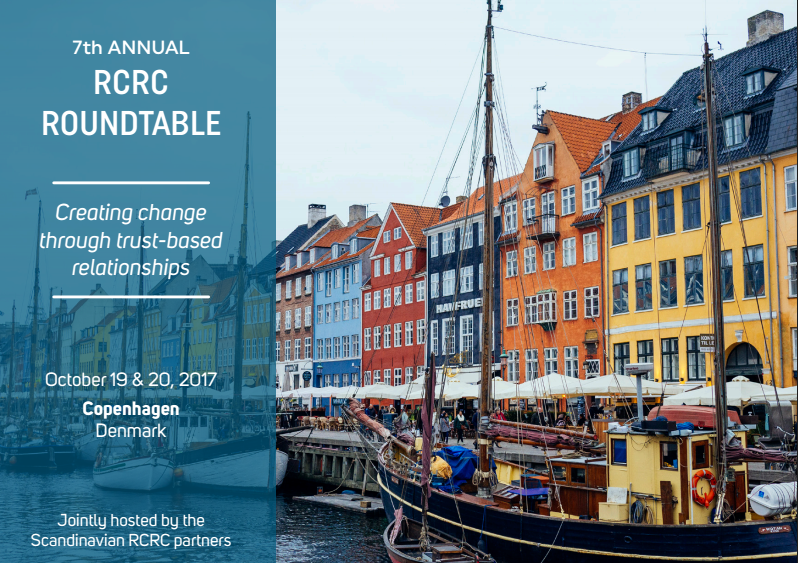 The world as we know it has been undergoing dramatic changes. A populist groundswell is building up, nurturing a feeling of an 'us' versus 'them.' Political, sociological and economic changes are raising the level of insecurity for both public organizations and private companies.
How do we create trust in a time of distrust? How do we build relational coordination between professions, across organizations, across differences in race, gender, nationality and status, and between managers, employees, investors and clients, to achieve desired outcomes?
The RCRC community has a deep expertise in using relational coordination to support healthcare improvement, with a growing focus on relational co-production with citizens and families.  Building on this expertise, our partners are now using relational coordination to support community wellness, social change, education, human services, construction, transportation, sustainable supply chains, entrepreneurial ventures, and more.
At the 7th Annual Roundtable, you will see the world from a different perspective. Literally! For the first time, the Roundtable is taking place outside the U.S. Our location this year will be Copenhagen, the capital of Denmark and one of the major cities in Scandinavia. The Scandinavian countries have been characterized by high levels of trust among citizens, in the judicial system, and even in politicians.
Join us for inspiration from around the world, as we bridge our research and practical experiences to create positive change. We invite you to bring your research, teaching or a change initiative you're involved with and put your head together with fellow researchers and professionals to deepen your knowledge and bring new perspectives to it.
Submission Instructions:
We invite you to submit abstracts by June 1 relating to research, practice or teaching methods, based on work that is either completed or in progress. We welcome submissions from multiple disciplines and methodologies. Research abstracts can include projects that are either completed or in progress. Practice abstracts may include an intervention that is either completed or in progress. Teaching abstracts can include methods for teaching about relational coordination at an undergraduate, graduate or professional level.
If you are interested in presenting at the Roundtable, please submit your title and abstract by June 15 using the electronic submission form included here or below. 
Notification of Acceptance and Registration for Roundtable:
You will be notified by June 30 at latest whether your project has been selected for presentation. Registration for the Roundtable is open and available here, and early registration ends July 15.
Questions: Feel free to contact Tanya Allain at tallain@brandeis.edu with questions
Roundtable Selection Committee and Roundtable Host Committee on our website here.
---
RCRC Research Webinar: Thursday, May 25th at 8:00-9:30 am ET 
Performance Management in Context: Formative Cross-Functional Performance Monitoring for Improvement and the Mediating Role of Relational Coordination in Hospitals

Presenter: Edel Conway (Professor, Dublin City University) and Aoife McDermott (Reader in Human Resource Management)
Discussant: Martin Connor (Executive Director, Center for Health Innovation, Griffith University) 
Abstract: Recent research suggests that to fully realize its potential, performance management should be bespoke to the social context in which it operates. Here we analyse factors supporting the use of performance data for improvement. The study purposely examines a developmentally oriented performance management system with cross-functional goals. Click to read more.
Please note that Research Webinars are available to RCRC Partners only. If you are interested in learning about RCRC partnership, please click here.
---
Academy of Management in Atlanta, Georgia!
Congratulations to all those who have been accepted to present about relational coordination at the Academy of Management Annual Meeting this year! We will include information about one or two of these sessions in each newsletter leading up to the conference. On our website is a list of sessions that include RCRC partners. We will be adding sessions as we receive them. We are also planning an RCRC reception, so stay tuned for more information! If you have a session to share, please email Tanya Allain at tallain@brandeis.edu.
Strategic Relational Human Resource Management: An Emerging Paradigm
The literature on high performance work (HPW) practices and strategic HRM highlights the organizational benefits of synergistic HR practices and policies. These inter-dependent and complementary practices, leverage skill development, information exchange, and motivational factors to reduce turnover and enhance key outcomes like productivity, quality, and financial performance (MacDuffie, 1995; Ichniowski, Shaw, & Prennushi, 1997; Huselid, 1995). Click to read more.
Sponsored by: Organization and Management Theory Division, Human Resources Division and Business Policy & Strategy Division
Co-Chairs:
Frits Pil, University of Pittsburgh
Jody Hoffer Gittell, Brandeis University
Discussant:
Jody Hoffer Gittell, Brandeis University
Presenters:
The Impact of Human Capital, Social Capital, and Epistemic Paradigms on Standardized Work Tasks (Frits Pil, University of Pittsburgh)
When Does HR Matter Most? Incorporating CEO Human Capital into Strategic Human Resource Management (Christopher Collins, Cornell University)
Out of Its Comfort Zone: SRHR in the Context of the Temporary Inter-Organizational Form (Dana Minbaeva, Copenhagen Business School and Iben Sandal Stjerne, Copenhagen Business School)
Relational Coordination and Human Resource Management at a Time of Exponential Change (Joel Cutcher-Gershenfeld*, Brandeis University)
---



May RC Cafe: May 18th at 10:00 to 11:00 am ET
Building Schools as Collaborative Communities – The Role of Relational Coordination
Our expectations of what public schools should be doing are changing. Historically, there has been a focus on academic learning, accompanied by a growing focus on accountability through testing. Some stakeholders have become concerned about the consequences of this narrow focus. They have pushed back, pointing to needs and potentials that cannot be addressed through academic learning alone. They are asking schools to produce high functioning citizens who can make positive contributions to their communities and their workplaces and to do so in a way that is inclusive of increasingly diverse student populations.
In response to these new expectations, pedagogical innovations such as competency-based, project-based, individualized, and culturally responsive education are gaining momentum. These pedagogical innovations are expected to require a significant shift in school culture. In particular, these pedagogical innovations are expected to require a shift from the siloed bureaucratic model that schools have inherited from an earlier era to a more relational, networked model with strong ties across participants, supported by teacher leadership.
We anticipate that a school culture characterized by relational coordination and teacher leadership will support innovations in pedagogy and that together they will produce desired student and teacher outcomes. Desired student outcomes are understood to go beyond academic knowledge (what do students know) to include college and career readiness (what can students do), as well as socioemotional learning (what are students like). Desired teacher outcomes include greater job satisfaction, greater career satisfaction, a greater sense of professional efficacy, and reduced burnout.
Join us in a discussion of emerging models and their need for relational coordination across a broader set of stakeholders. If you are an RCRC partner, click below to register.
---
Partner Updates
Have updates to share? Contact Tanya Allain at tallain@brandeis.edu.
  New RCRC Partners:
Rochester City Schools
Beth Israel Deaconess Medical Center
Laurie Nsiah-Jefferson, Brandeis University
Presentations: 
Muhammad Siddique will present at the British Academy of Management in the HR Track.
Caroline Logan will present in the poster symposium at Academy Health on Tuesday, June 27th at 8:00 am. The presentation is entitled "Improving Interdisciplinary Teamwork in Surgical Care in the Context of the Medicare BPCI Program" and focuses on the results of an RC Intervention with RC Survey data
Videos:
Jody Hoffer Gittell spoke at TEDX Rochester. The talk was titled The Power of a Simple Idea. Click below to view a video of the talk.
While on campus as a Health Thought Leadership Network visiting scholar at Bentley University, Dr. Tony Suchman presented a seminar titled: Tending the Space Between: Interdependence and the Relational Core of Integrated Health Systems. Click below to view a video of the talk.
---
Upcoming Events
May 9-10: POS Research Conference to share and advance qualitative and quantitative research in the field of Positive Organizational Scholarship (POS). This biennial gathering of scholars promotes research that inspires and enables leaders to build high-performing organizations that bring out the best in people. Learn more here.
May 23-24: Jody Hoffer Gittell and Maren Batalden of Cambridge Health Alliance will present at the Conference on Improving the Quality and Affordability of Healthcarethrough Co-Production of Healthcare Services at Cincinnati Children's.June 1: Deadline for RCRC Roundtable Call for Abstracts (more information above).
June 1-4: RC Presentation at LERA in Anaheim (see above for more information).
June 15-16: RC Intervention Workshop in Boston, MA – In this training, you will learn to use relational coordination as part of interventions to improve collaboration and performance across the continuum from small co­-located work groups to virtual teams to whole organizations and inter-organizational consortia.  The course includes self-study modules, a 1.5-day workshop, and coaching support for a project of your choice. Led by Dr. Tony Suchman of Relationship Centered Health Care and Jody Hoffer Gittell of Brandeis University at the Center for Medical Simulation. Learn more here!
June 25-27: Academy Health in New Orleans with RC presentations (see above).
July 15: Last day to receive an early-bird discount when you register for the RCRC Roundtable.
August 4-8: 77th Academy of Management Annual Meeting in Atlanta, GA.  See more here.
September 1: Deadline for papers on the concept of resonance. Learn more here.
September 5-7: British Academy of Management with RC Presentations (see above).
October 19-20: 7th Annual RCRC Roundtable in Copenhagen. See above and here for details.
October 27-28: System of Complexity Sciences for Healthcare – Embracing Complexity in Health: The Transformation of Science, Practice and Policy
December 7-9, 2017: February 1-3, 2018, April 12-14, 2018: Rediscovering the Heart of Health Care: A Courage to Lead Retreat Series in Island Wood – Seattle, WA. Facilitators are Richard Shugerman and RCRC Partner, Diane Rawlins. Click here to learn more, register and download the brochure.
Have an event to share with the RCRC community?  Email Tanya Allain at tallain@brandeis.edu.